MATCH YOUR INTERIOR DOOR
TO EXTERIOR DOOR
When choosing interior door, you take into account the envisaged style of the interior finish. Is it possible to reconcile the design of the front door with your interior design vision?
THERMO doors have been created in 4 selected collections, which you can easily match with PORTA interior door collections. They will make your interior comprehensively arranged and coherent. Our designers have prepared several proposals for you to match the design of your THERMO exterior door.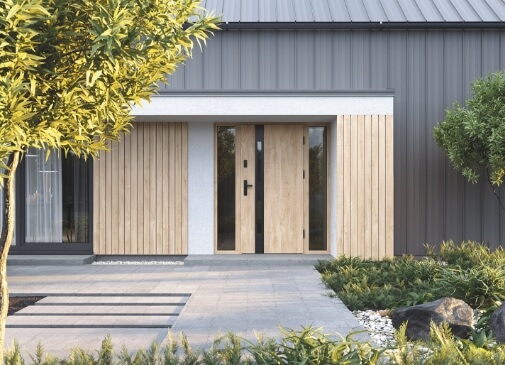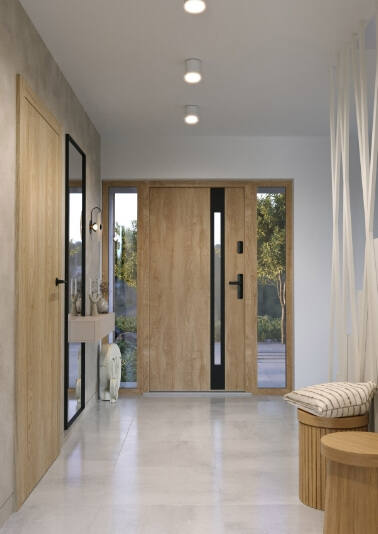 WOOD
IN MODERN
UNVEILING
The natural earth tones combined with the geometric veneer layout of the Z/ EARTH 4 Elements interior door collection will make interiors warm and cosy. This collection will harmonise with the THERMO GLASS exterior doors featuring modern glazing.
The veneered collections will go well with the matt veneer of the exterior doors in WOODEC OAK TURNER colour, with the natural appearance of wood. It is a unique veneer that perfectly reproduces the grain of the wood.
Exterior doors in woodgrain veneers will look great with interior doors with natural veneer, whose grain resembles raw wood. In the PORTA range you will find solid doors in a variety of grain patterns: NATURA CLASSIC or NATURA LOFT, milled leaves (also in French herringbone pattern): NATURA VECTOR or NATURA OSLO, and with glazing such as NATURA GRANDE or NATURA SPACE.
AMBIENT
VINTAGE INTERIORS
The traditional leaf design and soft colours are a reference to the enduring vintage trend. It is a design that has been known for years, which will give your home a visual lightness and introduce a cosy atmosphere. Such interior doors will harmonise perfectly with the THERMO CLASSIC exterior doors.
Owners of classic style interiors should go with interior doors in white, such as PORTA ROYAL PREMIUM, as well as in subtle greys such as in the PORTA GRANDE UV collection model A.0, C.0, or A.1 with a mirror, or perhaps doors in pastel colours such as light mint in the P/ AIR 4 Elements collection. An interesting choice for vintage and glamour interiors will be doors with decorative geometric milling PORTA ART DECO.
When finishing classic-style interiors, it is worth paying attention to details and accessories, such as stylish handles or furniture handles. The AZURA collection is a comprehensive solution ideal for such arrangements.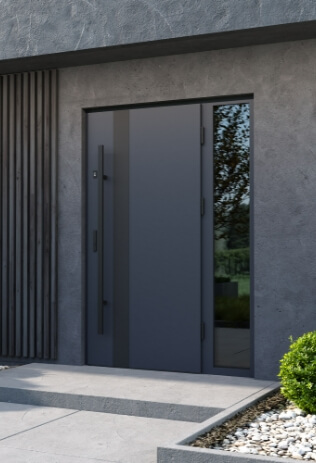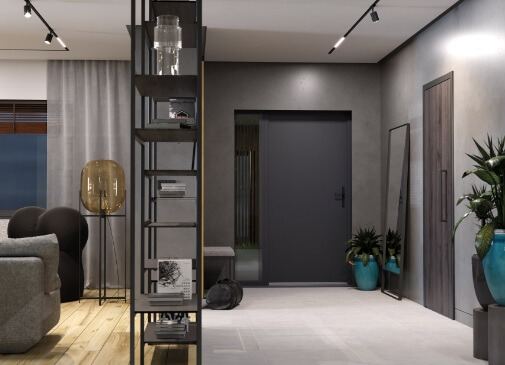 THE CLEAN FORM
OF LOFT STYLE
The O/ FIRE line from the 4 Elements collection is a door that will be the perfect complement to the loft style. It is a project that combines modernity with a post-industrial feel. As chosen by our designers, it is this collection that will go well with the THERMO MODERN exterior door, whose pure form will emphasise the austere character of the interior.
In the PORTA range of interior doors you will find many proposals that will suit the industrial style, both solid and glazed doors such as PORTA RESIST or PORTA LOFT, as well as glazed doors with steel bars PORTA LOFT STALOWE or with a full glazed panel such as PORTA GLASS. It would be a good idea to choose high-quality PORTA steel doorframes to emphasise the loft style of your interiors.
ELEGANT MINIMALISM
WITH CHARACTER
The linear minimalism of the THERMO LINE exterior door gives the door a universal aesthetic and will fit in with almost any style of interior design. Minimalist or modern style are two of the possible solutions.
White interior doors will suit this type of interior. The W/ WATER 4 Elements collection with vertical, wider milling, or PORTA VECTOR PREMIUM and PORTA OSLO with different vertical milling patterns, will be the perfect complement to THERMO LINE entrance doors.
The white lacquered collections with decorative matt or black glass PORTA FOCUS PREMIUM, as well as with decorative inlays PORTA DESIRE UV, will add a touch of character to modern interiors.
NEED MORE
OF OUR INSPIRATIONS?
You will find them on our website www.portadoors.com, where you can select your interior doors and adjust the style in the configurator or download the catalogue.
Check out our door builder too! All you need to do is take a picture of the interior with the area where you want to install your new interior door. Then upload your photo to the builder and try on the PORTA door collections virtually!
YOU WILL ALSO FIND INSPIRATION ON OUR
SOCIAL PROFILES.
EXPLORE YOUR POSSIBILITIES WITH PORTA!
WHEN SHOULD I ORDER
INTERIOR DOOR?
It is a good idea to order interior door about two months before you plan to finish laying the floors and painting the walls. Wait until everything has dried thoroughly on site before installing the interior doors.
On our website www.portadoors.com you will find a locator of PORTA Sales Points.